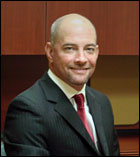 Edward Parnell - Founder
Edward Parnell is a visionary. A visionary is defined by knowledge gained from experiences coupled with the ability to apply that knowledge to an industry in such a way that changes the playing field. We are entering a new industry era, the likes of which no one has ever witnessed. Although this mortgage industry meltdown has been painful, it sets the stage for those with foresight and the courage to implement change.
Edward's vision and subsequent formation of HomeTeam Equity with partner Matt Robinson, is the compilation of travels and meetings with the industry's best including Wall Street experts, mortgage broker and banking executives along with commercial and residential lenders. In forming HomeTeam Equity, Edward has armed the street with the best components of banking supported by a lead source program that is the most unique in the industry.
"There are many things in this world that can be duplicated, but it is impossible to duplicate a relationship, said Edward Parnell. Relationships are the life blood of our business." With over 25 years of mortgage banking and brokerage experience Edward has participated in and/or overseen in excess of 4000 loan closings. It is easy to understand why Edward's vision starts with what he knows best, the Loan Officer on the street that diligently nurtures the relationships critical to long term individual and company success.
Born and raised in Winston Salem, North Carolina, Edward then attended Memphis University on a golf scholarship where after graduation in 1985, he pursued a professional golf career. Mr. Parnell then started in the mortgage business in 1985 with Margaretten & Co, one of the leading Mortgage Bankers in the country. Quickly becoming the top producer in the Southeast, Mr. Parnell was heavily recruited moving to American Homefunding, where he again became their top producer. In 1992, Edward moved away from the lending world to eventually become a Vice President with a trend setting marketing firm. Edward then reentered the mortgage industry as the founder of Paragon Home Funding in 1995.
Edward is the single father of a handsome 16 year old son named Nicholas.