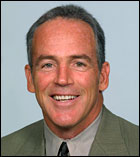 Matt Robinson - Founder
Matt Robinson has served as the President of HomeTeam Equity since its formation in July 2005. After attending the University of Georgia as a scholarship athlete from 1973 through 1977, Mr. Robinson enjoyed an eight year professional football career as an NFL and USFL quarterback. Upon retirement in 1986, Matt immediately launched into a successful real estate career that included brokering and investing in commercial land and income producing properties. Robinson's real estate education continued in 2001as a 3rd party commercial general contractor building in 23 states. In his role as Senior Vice President, Executive Committee Member and Business Development Director with Summit Contractors, Mr. Robinson was primarily responsible for Summit's growth surge from 2002 revenue of $196mm to 2004 revenue of over $300mm. Robinson then revisited his long time friendship with Edward Parnell to form HomeTeam Equity at a critical time in the mortgage industry. Parnell's reputation and success in the industry, going back as far as 1986, in combination with Robinson's marketing skills, athlete connections and knowledge of the financial markets was the impetus in building this ultimate lending platform.
Along with his business responsibilities, Robinson's continued love of sports kept him busy from January 1995 to April 2002, as a member of the NFL Jacksonville Jaguars Broadcast Division. Mr. Robinson was a writer, producer and on-air television host. His primary role was as the teams Radio Color Analyst. Robinson still worked as the Jaguars pre-season Television Color Analyst up until 2005. Prior to 1995, Robinson was the Managing General Partner of a Telecommunications firm and a Financial Public Relations Company.

Robinson is a former draft pick by the New York Jets and played professional football from 1977 to 1986 with the Jets, Denver Broncos and Buffalo Bills and Jacksonville Bulls of the United States Football League. Mr. Robinson is also a licensed contractor. Matt is a father of a beautiful 16 year old daughter named Mattison.